ANNUAL PATUXENT RIVER TRASH CLEANUP!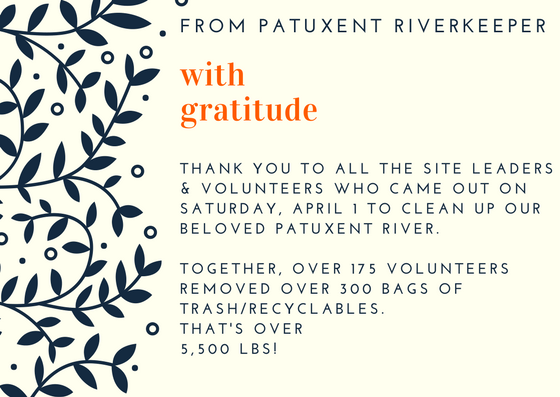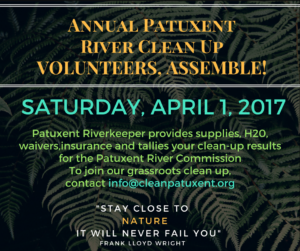 Riverkeepers work on watershed problems, not just symptoms. But dumped trash, while a symptom, is one of the more unsightly and obvious signs of the decay of our waterways, especially in heavily used public access areas. Therefore the Patuxent Riverkeeper coordinates the only river-wide annual cleanup event each April. The Riverkeeper is joined by scores of other partners to provide supplies, site supervision, and promotional and other resources, in an effort to make each year's cleanup bigger than the last. Our motto is: To clean up a river, somebody has to get dirty!
We also tally the yield of each cleanup in order to get a statistical record of annual growth of volunteerism and increases in the amount/tonnage of trash collected. Additionally, we help local groups recruit volunteers and advertise their own cleanups on our web site. The effort to remove more tonnage and engage more volunteers each year keeps the cleanup growing annually in scope and effectiveness.
We will be posting sites you can join on this page early in March. Questions or suggestions? email: info@cleanpatuxent.org
Patuxent Riverkeeper is seeking local business sponsors and donors to help us procure gloves, trash bags and other supplies. Sponsors will get recognition on this web site and other electronic outreach we conduct related to the cleanup. Sponsors will also get a poster to display in their place of business–that advertises and acknowleges their sponsorship support of the 2017 Cleanup. 
SITES:
Patuxent River Park
For flier click here 2017 River Clean Up Flyer
Contact: Greg Kearns, Greg.Kearns@pgparks.com
*100 large bags of trash, 3 tires and 50 volunteers
Patuxent Wetlands Park
*20 Volunteers removed 32 bags of trash and 1 car tire.  Each bag of trash was estimated at 40 lbs. for a total of 1280 lbs. of trash removed.
Upper Patuxent Watershed Clean-Up: IWLA-Chapter House, 26430 Mullinix Mill Road near Damascus
For flier click here, WAC cleanup_spring_17
Contact: Meo Curtis, meosotis58@verizon.net
*36 Volunteers picked up 37 bags, 2 tires, and miscellaneous furniture parts and other larger debris.  There were many recyclables among the litter.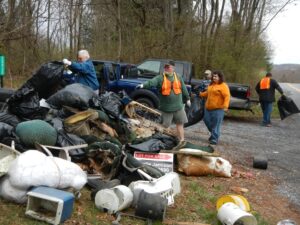 Patuxent River State Park 
Contact: Scott Knoche, scott.knoche@gmail.com, (517) 420-2664
Meeting Point: Parking – 39.250055, -77.06506
Tailwater Below Brighton Dam
Contact: Nick Weber, heritagero@aol.com
*6 Volunteers worked for 4 hours and collected 9 bags of tree tubes, 12 bags of tree tube stakes, 4 bags of trash and 2 bags of recyclables. Approximately 700 lbs of trash and 8 lbs of recyclables. 
Contact: Anne Thompson, 240-353-2407
Myrtle Point Park
Contact: Bob Boxwell, Executive Director
Cove Point Natural Heritage Trust
410-394-1300, bobboxwell@Hotmail.com
Queen Anne Canoe Launch downriver to Hills Bridge & Jackson's Landing upriver to Hills Bridge
Contact: Ralph Heimlich, heimlichfamily@comcast.net and Chip Walsh
*11 Volunteers collected 80 bags of trash
Between the Calvert County Watermen's Association and Patuxent High School 
plan on meeting at 8:00 am at the Boat Ramp in Solomons
Contact: Rachel Dean, chesapeakefishing@juno.com
*Over 45 Volunteers worked for 2 1/2 hours.  They collected 25 industrial sized bags of trash and 12 bags of recyclables, 740lbs!